1. Product Appearance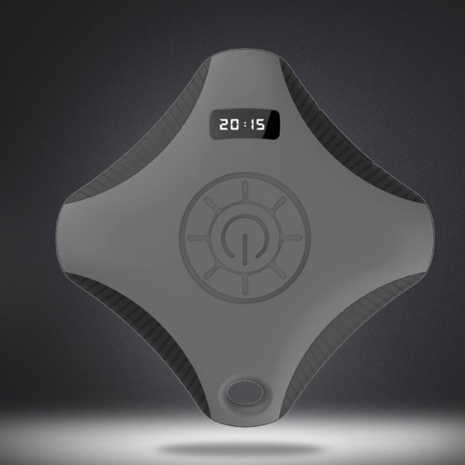 2.This is a new generation ofreal-time personal GPS tracker with real-time positioning /tracking, history route query and playback, telephone audio monitoring, over speed alert, Geo-fence alert and so on, it is widely used for outdoor people, animals.
Combining GPS system with base station for positioning, it still can position even in satellite signal blind area by sending current location information to our monitoring center server by GSM/GPRS/EDGE network, clients can use it after logging on our tracking service website /mobile APP with a username and password. With large capacity and safe, stable, high-speed running, the server can meet customers' long-term huge data service requirements.
3. System schematic diagram
4. Main functions
4.1 Query function Support Mobile APP (Android, IOS) control and SMS query Website control, tracking and inquiry

4.2 Remote monitoring function Real-time positioning and monitoring Movements' trajectory recording and query SOS
emergency report Audio monitor Remote reset Low battery alarm Cross-border alarm (Geo fence) Real-time clock, GPS calibration automatically

4.3 OLED screen display Display: GSM signal intensity Display: GPS signal intensity Display: battery consumption Display: current time Display: SOS alarm Display: working mode
5. Technical data
5.1. TRACKER Parameters
1) Dimension: 50mm*50mm*17mm
2) Weight: 30g
3) Waterproof: IP 65
4) Humidity: 5%-95%
5) Working Temperature: -40℃-85 ℃
6) Charging Voltage: 5V±0.25V DC
7) Working time: power saving mode>120 hours, call duration< 2 hours
8) Battery Capacity: 450mAH
9) Standby Current: ≤8mA
10) Positioning: GPS & LBS & GSM
11) GPS/GSM Antenna: Built-in
12) Positioning Accuracy: 10-50m
13) Speed Accuracy: 0.1m/s
14) Platform History Storage (3Months)
15) Firmware Upgrade Interface: USB, OTA

5.2. GNSS Parameters Support GPS system GPS receiver: 12 channel Receiver: L1band (1575.42MHz), C/A code (1.023MHz chip rate) Tracking sensitivity: <-159 dBm (GPS) Clod start sensitivity: <-148dBm Positioning accuracy: 2.5m (open field) Speed Accuracy: 0.1m/s Cold start: 35s, hot start: <1s
5.3. Communication Parameters Working frequency band: 2G GSM: GSM850/EGSM900/DCS1800/PCS1900MHz Four frequency Transmit power: GSM850/EGSM900: 2W DCS1800/PCS1900MHZ: 1W Receiving sensitivity: GSM<-106 dBm GSM Positioning accuracy: 100-500